Pitching a tent or pulling in with your RV? You will find facilities suited for either in the Burwell area. From primitive to fully modern accommodations, you will find facilities that offer hard-surfaced pads and electrical hookups, hot showers and dump stations.
Campgrounds are available for day use or long-term camping. Visitors to the Burwell area have a variety of options to choose from.
| | | |
| --- | --- | --- |
| Burwell City Park | North 7th Avenue | 308-346-4509 |
| Calamus Lodge Campground | 46358 828th Road | 308-346-4331 |
| Calamus State Recreation Area | 42285 York Point Road | 402-471-1414 |
| Calamus Flats Campground | 46370 Highway 96 | 308-214-0292 |
| Dad's Calamus East | 220 N 13th Street | 308-346-5567 |
| Fairgrounds | 46710 L St | 308-214-0933 |
| Fort Knox Campground | 46377 Hwy 96 | 308-293-1044 |
| Kamp Kaleo | 46872 Willow Springs Road | 308-346-5083 |
| Willow Springs RV Park & Campground | East Highway 91 | 308-750-1364 |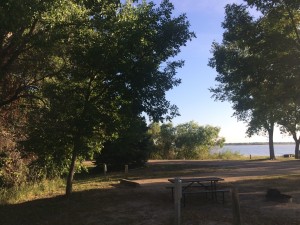 Calamus State Recreation Area
RV and primitive camping are offered at the Calamus State Recreation Area with 122 modern camping pads with electrical hookups and 55 non-pad sites available at four sites within the Calamus State Recreation Area for visitors to enjoy. The campgrounds at Nunda Shoals and Homestead Knolls feature modern restrooms, showers, dump station and water. You will also find unsupervised swimming beaches, 5 boat ramps, vault toilets, picnic tables and fish cleaning stations. All campers must register for their overnight stay and reservations are accepted.
The Calamus State Recreation Area allows you to enjoy the solitude and peacefulness of the area. The beaches are clean and great for swimming, lounging and relaxing in the sun. Both motorized and non-motorized boating is allowed on the reservoir and the excellent fishing opportunities from the shore or a boat will appease any fish lover. The Calamus area offers abundant wildlife viewing opportunities, including nesting bald eagles, and great hunting opportunities for grouse, pheasant, deer, mourning doves, cottontail and waterfowl in season. There are extinct town sites such as Valleyview that were founded in the early 1900s on the railroad grade of the never to be completed Lincoln and Black Hills Railroad. The 5,123 acre Calamus lake is available to all water lovers!